David with Doge, his new guide-dog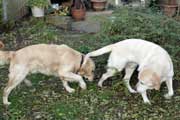 The meeting between guide dogs Campbell (right) and Doge (left) - December 2005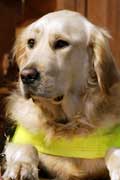 Doge in April 2006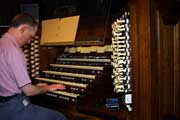 David at Notre-Dame-de-Paris
May 2002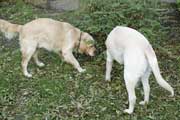 Guide dogs Campbell (right) and Doge (left) together - December 2005
Anyone embarking on their first hotel-based guide dog training may have questions about how it differs from classes at the former GDBA centres. I hope to address most of these points in this article. I have just completed training with my fourth guide dog, but it was my first time in the new hotel-based system.
On a Monday morning in January, my driver friend delivered me and my luggage to Hunton Park Hotel, near Watford. After he had left, my trainer, GDMI Graham Poole, introduced me to Jean Bird, the other student on this class, though a third student was receiving training at home, for personal reasons.
Next, Rehab Worker, Jane Fogden instructed us separately how to find our way around the hotel with our long cane. We learnt our way to the nearby fire exit, outside which there is a spending pen for the dogs. Beside the pen is a grassy area and a gutter, to suit all types of dog relief. Another room had been furnished for our use as a private lounge, where we would have the occasional talk from GDBA staff. We learnt the route down the corridor, past Reception, to the coffee area and bar, via the restaurant, where a table was reserved for all our meals. It is important to feel confident enough to find our way from our rooms to the restaurant without our dog. We were served at our table by several jovial and helpful hotel staff, who read us the menus, and would always do their best to find us whatever food we wanted. As a vegetarian, I was impressed and delighted with the range of superb choices, which also included plenty of meat and fish options.
True, we are more restricted to indoors, as there is no equivalent to the large grassy enclosures or pathways with handrails at the training centres. The hotel does have a pleasant terrace, and a small indoor swimming pool (though very limited, and requiring the presence of a sighted companion at all times). The only dress code mentioned is no sportswear in the bar or restaurant. Incidentally, there is no screen reader software or VIP-friendly technology at their internet café. Cheques can usually be cashed at Reception during office hours. Although you are welcome to have a partner stay the night with you, you are responsible for booking and paying for their meals.
Back in our rooms after lunch, Graham brought us a dog bed, followed by our dog. Due to special circumstances, GDO's sometimes meet their potential new dog before class. I had met mine a month earlier, so that I could be sure that he would tolerate both the London underground and loud organ music. Graham had allowed me with a sighted friend to take this dog on the lead to the church where I am Organist. So, Monday afternoon's introduction was a joyful reunion!
The pack of accessories which we each receive includes collars, bells, whistles, grooming equipment, baton, Sam Brown belt, and reflectors for the dog's harness.
For the rest of that first day, we practised a little canine house obedience, and left the dog in our rooms when we went for dinner. The sacks of dried food were kept in our lounge, and we both fed our dog from then on.
From Tuesday onwards, we did a walk each morning and afternoon. Gone was the minibus so familiar to anyone who trained at one of the centres. Graham drove us out individually, returning us to the hotel so that we were spared hours of sitting waiting in his car. Later on, we did more "group walks" together. The training aspects remain the same, so I need not dwell on that. Suffice it to say that Graham always demonstrated the greatest concern for our safety and comfort, and was excellent company. He even indulged my craving to catch "The Archers" on the car radio en route to our afternoon walk!
This particular hotel is used mainly for conferences, special events, wedding parties etc. It got very quiet at the weekend, compared with one or two extremely noisy, thronging evenings in the dining room and bar. Graham usually ate with us too, as well as other visiting GDBA staff. District Team Manager, Magnus Walker came to watch our first walks with our new dogs, and returned for our final walk before we went home. Health and Welfare Worker, Sue Nicholson came to speak to us about our dogs' diet, grooming, veterinary arrangements and so on. GDMI Michael Hiscox and Apprentice David Locklin came to assist with traffic training, as did Jane Fogden later. Jean's and my dog had come from Forfar, and it was a great treat at the end of the fortnight when Support Worker, Gemma Turner brought the two visiting Scottish trainers, GDT's Sally McCulloch and Lynsey Fell. It gave us the chance to learn about our dogs' histories, character, and puppy walkers.
At Hunton Park our extremely comfortable rooms each had an en suite bathroom; thermostat controlled radiator; double bed; bedside tables; wardrobe; shelving; desk and chair; trouser press; several standard eletric power sockets, as well as a shaver power point in the bathroom; tea/coffee with electric kettle; phone; TV; but a poor quality radio incorporated within a bedside phone/alarm clock. I recommend putting your waste bin on the desk, well out of canine reach!
Here is my list of items, if you have them, which you should consider bringing with you for training in a hotel.
Your long cane; your blue badge for parking; clothing, coats and footwear for every likely weather during your two weeks; enough clothes to avoid using the expensive hotel laundry service; Braille or speaking watch and alarm clock; your own personal first-aid pack to cater for any cuts, bruises, stomach problems, headaches, back and leg pains; a decent radio; plenty of material to occupy yourself, such as books, CDs and player, tapes and player; your mobile and charger, to avoid the hotel surcharge on calls made from bedroom phones; as well as any toys or chews to occupy your new dog. Apart from a possible "night walk", your evenings and part of the weekend are free, so it makes sense to plan either some activities, visits from family/friends, or pastimes.
I also suggest that you clarify with your trainer:
1. What day and time you are free to go home at the end of the two weeks;
2. Whether you can keep your hotel room until you leave;
3. How many days' training at home before you are likely to qualify;
4. How much time you need to take off work and regular commitments, before you can resume them with your new dog.
With usually just two or three students on class, the crucial requirement of hotel-based training is that you try to get on well with each other. You are thrown together a lot, particularly at mealtimes. It really pays off to get to know and understand your fellow students. In my case, I soon discovered that Jean and I shared a sense of humour, relished eavesdropping on the other diners, had many common enthusiasms, and enjoyed each other's company immensely. Although we both like a drink, neither of us used the bar, which might have been the one area where we could have chatted with some of the other hotel guests. As it was, we had no interaction with any of the many guests who came and went during the fortnight, though the hotel staff were all friendly without ever being interfering.
In conclusion, I would like to thank all the GDBA staff and everyone at Hunton Park Hotel. I can only reassure any potential students that I found the whole experience of hotel-based training to be impressively well organised, as thorough as ever, and great fun.
© Copyright David Aprahamian Liddle, February 2006