Campbell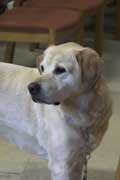 Campbell at St Mary's Chesham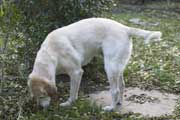 Campbell, "The Dog on Stilts"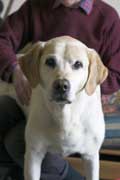 In his "misericord" position,
resting on David's knee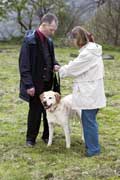 David, Campbell and David's
mother, Jill, in Yorkshire April 2005
After Crane, then Ross, my third guide dog, Campbell, is now ten and a half years old. We trained together in February 1997. Two years later, when Campbell was four, he had his first seizure. Thus began our long struggle with epilepsy: gradually charting the frequency and nature of his fits, as well as experimenting with various drugs to control the condition.

The Guide Dogs for the Blind Association (GDBA) was very supportive at first, but their subsequent restructuring operation rather diverted their attention. I had been keen to contact any other guide dog owners with epileptic animals, to offer and share support. I should clarify that Campbell "fitted" only when off-duty: if he had ever shown signs of fitting while working, he would have been instantly retired. Thunder and fireworks are worst for triggering problems, but there are not always obvious causes for seizures.

We visited a top specialist at the veterinary hospital in Potters Bar, and I joined the Canine Epilepsy Support Group, which offered tremendous help in sharing the latest research, and finding alternative, homeopathic, therapeutic approaches to treatment. My own vet was also superbly constructive, and we all learned as we proceeded.

Despite the difficult period when Campbell was too drowsy to guide, during the trials of various medications, I never wanted to give up with this wonderful dog's working potential. Once we had sorted out the mixture of conventional and herbal treatments, Campbell's condition stabilised, and his work again blossomed.

My daily walks in suburban London do not offer so much of a challenge to Campbell, who gets to snooze for hours on his magnificent bean-bag while I practise and learn music. However, our weekly trip to St Barnabas Pimlico, where I am Organist, presents many hurdles. We usually take three underground trains, negotiating the chaotic crowds at Victoria, with several awkward road crossings thrown in. At the church, Campbell has a sleeping-bag beside a radiator, immediately behind me as I sit at the organ. He gets the full volume of the music, since most of the pipes are directly above us there. Over the years, Campbell has come to recognise my final voluntary as being the conclusion: he usually gets up and stretches as my piece is approaching its final cadence!

Other occasional routes which Campbell negotiates include journeys to churches in the heart of the City of London, and in the midst of Covent Garden. It is worth emphasising that I myself have to know any route thoroughly, so that the dog and I maintain confidence in our team effort. The GDBA refers to guide dog and owner as a "unit". Memory and signals play a large part in how blind people learn routes: changes of surface under foot, gradients, angles, sounds coming from different directions, and my favourite pace counting. There is no magic, just concentration.

Campbell has accompanied me on most of my concert trips, and has been in more cathedral and college organ lofts than most dogs! These include St Paul's and Westminster Abbey, London; York Minster; King's College, Cambridge; Hereford, Gloucester, Canterbury, Newcastle, Durham, and Westminster Cathedrals, Bath Abbey and, of course, many churches.

In Exeter Cathedral, we shut Campbell in the organ loft, while I dashed down the spiral staircase to take my final bow in front of a 400-strong audience in the Nave. Excited by the applause, and not wanting to be left out, Campbell found an escape route, bounded down the stairs, and came running to join me in the Nave, thereby entirely stealing the show!

Campbell's sleek, noble figure is well known and loved in various musical circles. One cathedral organist described him as the "dog on stilts", because of his long legs. He loves attention, is outgoing, capable of mischief, but always totally adorable. He loves other dogs, is patient with children, tolerant with cats. No saint though, Campbell's scavenging and eratic recall in the park oblige me to keep him on a 20 ft flexi-lead. This has inspired us to cultivate a special route through various overgrown tracks and grassy expanses in the local park, giving both him and me a freer, more vivid experience. Squeaky toys fascinate him, although he is oddly perturbed by their noise! His delicacy of jaw usually avoids them squeaking; though he can show great strength when having a boisterous tug-of-war with his piece of rope.

Amongst the nicknames he has attracted are "Trundle" or "Wheel-barrow" in latter months, reflecting his reduced speed; "Jealousy", because of his need to be included in any affection he observes; "the chocolate thief", after the mysterious disappearance of a bar of 85 % (along with foil and paper wrapping); and "Lino" apparently in puppyhood. The latter because this tall dog shows a penchant for taking the weight (approximately 40 kg) off his feet at every opportunity: whether flopping down to lie on the floor while out waiting for a train, or leaning heavily against any available individual. A favourite trick at home is to edge his way towards a seated person, till he is standing entirely over their knees, then surreptitiously relaxing his legs, until the person realises that Campbell is effectively sitting on their lap, rather on the same principle as a monk resting on a misericord!

I have watched Campbell slowing down, and developing those fatty lumps which all dogs seem to get in older age, and so I have had to face up to his retirement. The decision to retire a dog is ultimately made by the GDBA on grounds of health or deteriorating work standards. After nine years' work in London, any dog deserves a few years of happy, off-duty life. Campbell's puppy walker, Pat, lives in Essex. She has had him back to stay on various occasions, when I have travelled overseas. He is always delighted to be with Pat again, and she has asked to have him in his retirement. I know he will be very happy with her, in familiar surroundings.

I could not myself keep two dogs, and in any case I believe it to be very unkind to the older dog to see his owner transferring attention onto a new animal. Better the clean break, despite the utter agony of parting. Born in 1995, when my father was still alive, Campbell knew my step-father, and was recognised and patted by Felix during our last visits to the nursing home. Little wonder that I so dread our parting.

My guide dog instructor has now got a puppy in mind for me, so things are moving very fast. In these last days with Campbell, I find myself unsure whether to try and distance myself a little from him, or to cling on to him with intensified tenderness, knowing that our separation may be very soon. I have no answer, but I do know that it never gets easier, no matter how many times one has gone through this before.

For all their help and support, I am deeply grateful to my friends, Les, Terry, and Norah. Particular thanks are also due to Anne Morley, Sheila Timson, Rose Mostyn, Pat James, and all at GDBA.

© David Aprahamian Liddle - December 2005

---
Feedback/comments
Ivan and Gill Walton write "May we add another attribute? He attracts small children to church, and is thus an agent of the Holy Spirit (like our cat Jeoffrey?)"

Kaikoo Lalkaka of Guild Records writes "I think you can imagine and visualize my tearful eyes on reading your beautifully crafted text about Campbell and his retirement. I remember that I too was allowed to pat him when I was at your place and was it Campbell who accompanied you to the Indian restaurant in Hounslow when I picked up, both you and Campbell, at Hounslow East tube station.
David, don't under any circumstances loosen your relationship and distance yourself from your dog; it would hurt him and you too. Shed more affection and love on Campbell and he will take the memories along to Pat in Essex. It is lovely, although you do not have him near you, to know that he is going to enjoy the rest of his dog's life and be happy and pampered."
Graham Jones writes "You will be sorry to bid farewell to Campbell. I remember him coming with you to St Peters Formby, where he curled up next to your shoes while you transported us with your playing!"
Colin and Deirdre Davenport write "We have happy memories of meeting Campbell in London, at many of your recitals, and during your visits to Yorkshire. We were very fond of him. It was obvious that he is a staunch Anglican, by the way he genuflects with such reverence. He was always welcome in our home, and even the cats came to realise that he would not harm them."